Marilia and Matheus of Sao Paulo Brazil had an outdoor wedding planned. Unfortunately, the day of the wedding came and a heavy rainstorm was going through area. The wedding was not postponed, just moved under a weatherproof canopy.
While the guests settled into their seats, an unusual wedding crasher joined the crowd. A stray dog, hoping to escape the rain. The guests tried to shoo the dog away, but he didn't leave for long.
"As the ceremony started, to everyone's surprise, it was the dog who came in when the bridal chorus began to play," Marília told The Dodo.
They shooed the dog again, but right as the actual ceremony was about to begin, he returned.
"The dog entered and laid down to sleep on my veil," Marília said.
This time, they let the dog stay.
"It was a very pleasant surprise for me, because I love animals," she said. "I liked it very much."
The dog stayed for the rest of the evening, mingling with the guests as if he were a member of the family. At the end of the evening, Marilia and her new husband went looking for the dog.
At some point, the rain had let up and the dog had slipped away into the night.
The newlyweds had decided to adopt the dog, if they could only find him.
"We decided to adopt him because he is a street dog," Marília said. "It took us a long time to find him again, but yesterday, we were contacted and told his whereabouts."
They named him Snoop.
"He came home, and I showered him," Marília said. "He played a lot, ate, drank water. He is very happy and slept super good the first night."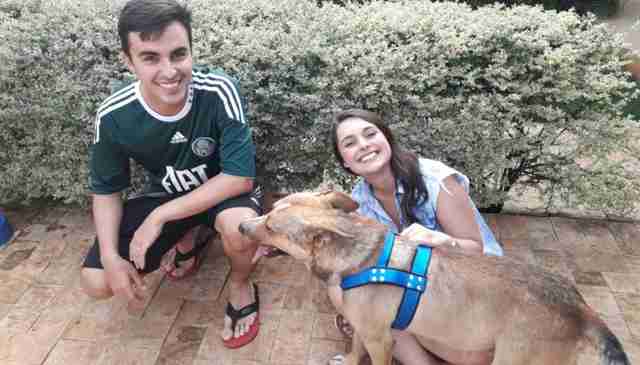 The new family couldn't be better.
"We're all very happy."